As nopCommerce gets popular, you start to see more and more ASP.Net hosts putting high priority on nopCommerce hosting. There are already quite a few in the market, but today I am going to introduce a FREE one to you!
Yes! FREE NOPCOMMERCE HOSTING! And I assure you that it runs as smoothly as any paid hosting you see on the market nowadays, with the same (or even more) features!
And the good thing? There is no ads or banner or whatsoever! It works exactly like a paid hosting! Not even credit card is required!
This is especially useful for newbies on nopCommerce who just want to quickly setup a test store to try out nopCommerce. It's also suitable for smaller businesses who do not have big budget on hosting, but still want to have an nopCommerce store up and running with the lowest cost within minutes!
Interested? Keep on reading!
myASP.Net - Free nopCommerce Hosting
So you ask, which hosting company is so generous that they offer free ASP.Net & nopCommerce hosting? It's myASP.NET.

Here's what you get for the free account:

Basically you get:
1000 MB or 1 GB of disk space / storage
5 GB of monthly transfer bandwidth
100 MB of MS Sql Server 2012
100 MB of MySql 5.x
ASP.Net 4.5 & PHP 5.4x
Dedicated App Pool
Backup / Restore / Repair
Sounds good and similar? Yes, this is almost what you get when you pay for a hosting that costs you US$ 4.00 per month, except that you now get it for FREE!
Who is it Good For?
Well, beginners and newbies! If you are new to nopCommerce, and just want a no-cost way of evaluating nopCommerce; or you are a new owner of an online store that have very strict budget on hosting, myASP.Net Free nopCommerce Hosting is suitable for you!
Or, if you are an nopCommerce developer or nopCommerce solution provider who constantly need test sites setup just for demonstration purposes, myASP.Net Free Plan is also a very good choice for you!
The good thing is, when you have maxed up your capacity, and is ready to move on to more sophisticated plans, you can do so easily, and the process is seamless!
How does myASP.Net Free nopCommerce Hosting Work?
Basically the control panel is very clean, user-friendly, and fast-loading.
What I like about myASP.Net is the 1-click installer that allows you to install popular ASP.Net and PHP applications with just a few steps! And guess what? nopCommerce is supported! That means you can get nopCommerce up and running in less than 5 minutes!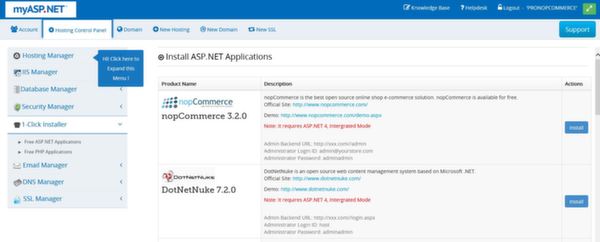 nopCommerce Installation Steps
myASP.NET nopCommerce hosting allows quick installation of nopCommerce with just a few steps as detailed below.
Step 1 allows you to select the SQL Server configuration, which you do not need to do anything. Just click next!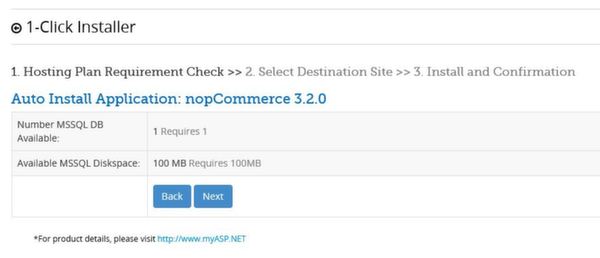 Step 2 allows you to setup the database. It's just as simple as entering a database name and a password!
And then you are good to go! nopCommerce is setup in no time!
Here is a demo nopCommerce 3.20 site hosted on myASP.Net free plan.
Features I Like About myASP.Net Free nopCommerce Hosting
Other than all the standard features I mentioned previously, there are a few things that I like about myASP.Net Free ASP.Net Hosting.
The first thing is you can add a proper domain name to your free hosting plan! This is invaluable, and normally not found on free hosting plans! So instead of using xxx.myasp.net, you actually can configure the free plan to point to yourstore.com!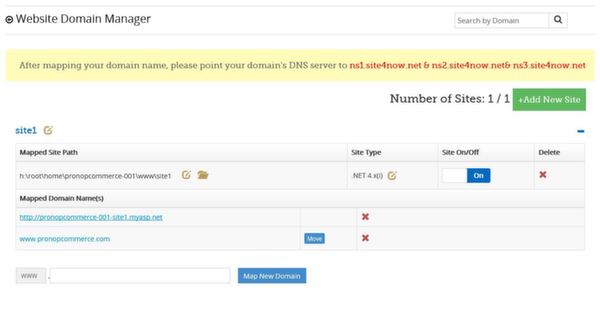 The second thing is it remembers logins even on server restart and app pool recycle! This is one thing you don't find on most shared hosting, even paid ones!
If you are familiar with shared hosting, you know that if you log in to your site, and leave your site for more than 20 minutes, you get automatically logged out even if you select "remember me" when you log in! This is due to shared hosting normally refresh the IIS application pool every 20 minutes of idle time.
But this doesn't happen on myASP.Net Free ASP.Net Hosting. And that's very surprising!
The third point I like about myASP.Net is that it is pretty developer-friendly! You get some pretty nice features that are useful for developers, such as:
IIS Raw Logs
Remote IIS Manager
Visual Studio Web Deploy
IIS Url Rewrite
MIME Type Manager
Conclusion
I am very surprised that myASP.Net free nopCommerce Hosting offers such a big amount of features even on their free plan! I personally recommend you to try myASP.Net for their service, I am sure you'll be impressed!
And you know what? There is no need for credit card information! You just enter your e-mail and password, and your free hosting plan is setup instantly!
Click here to sign up for myASP.Net free nopCommerce Hosting!
Again, you can try to see a working version of nopCommerce 3.20 website hosted on myASP.Net free hosting plan.